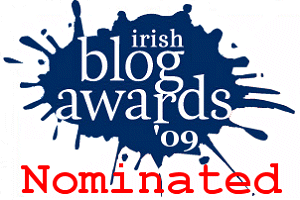 Great news, I've been nominated on the very-longlist for the Irish Blog Awards. This will become a longlist and then a shortlist. I've been enterted into both Best Music Blog and Best new Blog categories. Check out all the nominations here:
http://awards.ie/blogawards/2009/01/20/2009-irish-blog-awards-nominations/
And then check out all the blogs nominated in Best Music Blog:
Best Music Blog – Sponsored by DownloadMusic.ie
Tenacioust: http://tenacioustimothy.wordpress.com/
Ken Mcguire: http://kenmc.com/
Music Roadmusic Road: http://musicroad.blogspot.com/
Musical Rooms: http://musicalrooms.wordpress.com/
Mp3hugger: http://mp3hugger.com/
Kilkennymusic.com: http://kilkennymusic.com/
Fireworks And Mash: http://fireworksandmash.com/
Indie Limerick: http://indielimerick.blogspot.com/
2 U I Bestow: http://2uibestow.blogspot.com/
Asleep On The Compost Heap: http://onavery.blogspot.com/
Cheebah And All That: http://cheebah.net/
Circa: Now!: http://ciarandryan.blogspot.com/
Nick Thinks: http://nickthinks.wordpress.com/
Swear I'm Not Paul: http://swearimnotpaul.blogspot.com/
Nialler9: http://nialler9.com/
Egoeccentric: http://egoeccentric.blogspot.com/
Off Her Rocker: http://wordpress.hotpress.com/offherrocker
The Indie Hour: http://indiehour.wordpress.com/
Jackandthe-news: http://jackandthe.com/
Stuart's World!: http://stuartlawler.ie/
Frmckenzie: http://frmckenzie.wordpress.com/
Weareie: http://weareie.com/
Stuart Bailie: http://bbc.co.uk/blogs/stuartbailie
The Red Scrapbook: http://theredscrapbook.blogspot.com/
Smoke/less/fuels: http://smokelessfuels.blogspot.com/
State Magazine: http://state.ie/blog
Analogue Magazine: http://analoguemagazine.com/
Guess List: http://guesslist.ie/
The Torture Garden: http://thetorturegarden.blogspot.com/
Unarocks: http://unarocks.blogspot.com/
Unreality Music: http://music.unrealitytv.co.uk/
Those Geese Were Stupefied: http://thosegeese.blogspot.com/
On The Record: http://irishtimes.com/blogs/ontherecord
Drop-d Music Journal: http://drop-d.ie/
Cheebah And All That: http://cheebah.typepad.com/
My favourites are IndieLimerick, 2UIBestow, Nialler9, and On The Record. Hopefully these and me can make the shortlist! If not, I hope Peter, Keith or Jim wins.
Related posts: